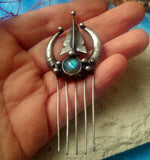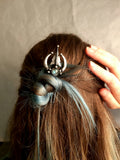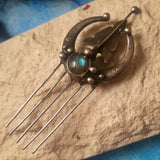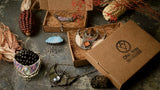 Arrow of Artemis
Harps were playing despite the draft, as inside a moon rowboat a man danced the dance and floated off of the lake into the Whitewater country.
Comb with a drop of an ocean dew transmuted into a turquoise-heavenly labrador and into an ancient foliage petal, as is all totally original work.
Materials: Patina, Love, Steel, Labrodorite.
!!! Soldered Using Lead Free Solder !!!
 All my products can be silvered (with chain). If you want this option - add a silvering listing, click here.
Try my Gift Personalized eco friendly box package for jewelry, click here.