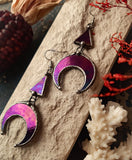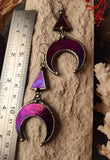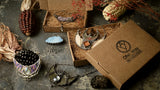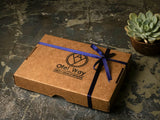 Moons with triangles

Earrings with an amethyst-purple iridescence, as though spaceships travel inside this glass through light years of kaleidoscoping portals and labyrinths.
Lunular geometry of the hue is of to us unbeknownst universe.
With Stainless Steel Earring Hooks - Hypoallergenic!

Materials: Stainless steel, Glass.
!!! Soldered Using Lead Free Solder !!!
Expect to receive your jewelry set beautifully presented and very well packed.
All my products can be silvered (with chain). If you want this option - add a silvering listing, click here.
Try my Gift Personalized eco friendly box package for jewelry, click here.