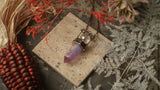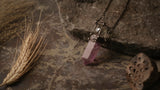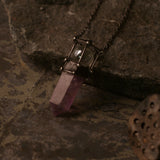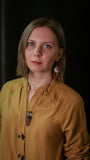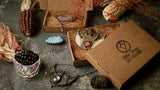 Crystal Pendant
Amethyst.
Since ancient times, almost all magical properties have been attributed to this stone)
Perhaps because purple is the rarest color in nature.
There are only two versions of the appearance of the name of this mineral. Translated from ancient Greek αμέθυστος means "not drunk" or "not leading a wild life." The ancient Greeks believed that in some way amethyst protected them from drunkenness and even drank from amethyst cups in order not to get drunk. According to the second version, the name of the amethyst stone is associated with the name of a beautiful nymph, who chose to petrify instead of falling into the hands of Bacchus, who pursued her (otherwise - Dionysus). It's easy to see that both versions are closely intertwined with each other, since the nymph Ametis separated herself with a stone from the dissolute god of vegetation and winemaking.
Amethyst is called the stone of harmony and rest, considering that it's of great importance for those who want to settle conflicts. Amethyst is also credited with the ability to free people from negative thoughts and generate omniscience. This is due, primarily, to the purple color, which is the symbol of the "third eye".
Materials: Stainless steel, Copper, Stone, Amethyst. 
!!! Soldered Using Lead Free Solder !!!

Atention!!
The production time is 14-21 working days, and the delivery time is from 10 to 20 days. Please take this into account when planning for receipt of orders.
Expect to receive your jewelry set beautifully presented and very well packed.
---------------------------------------------------------
The chain comes 18" long but please feel free to message me (at order note) to change the length.
---------------------------------------------------------
All my products can be silvered (with chain). If you want this option - add a silvering listing, click here.
Try my Gift Personalized eco friendly box package for jewelry, click here.
More Pendants, click here.