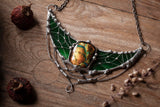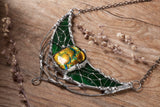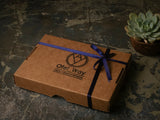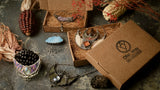 Forest Crescent Moon with cabochon from dichroic glass
Forest Crescent Moon with cabochon from dichroic glass.
It would be like in the deepest of the ancient forest dropped its scales rainbow dragon. And she was so beautiful that she was covered with leaves and thin branches of silver, turning into an amulet-suspension for those who are open in heart.
Decoration for those who want to tame the inner rainbow dragon
If you decide to find something unique and unusual, then you are in the right place!
Handcrafted, made with traditional Tiffany techniques. (made with glassmirror, hand cut, grinded, copper foiled, ecotin, soldered with love))
Pendant measure 10 cm long (not including ring and hook) and a approx 5 cm at its widest point.
( I recommend use with silvered listing, click here. )
Did you see something you like, but not the right colour? I love custom orders. If you have something in mind, I'll work with your ideas and create a one of a kind piece just for you.
Expect to receive your Pendant beautifully presented and very well packed.
Materials: hand cut, grinded glassmirror, copper, love, dihroic glass.
!!! Soldered Using Lead Free Solder !!!
---------------------------------------------------------
The chain comes 18" long but please feel free to message me (at order note) to change the length.
---------------------------------------------------------
All my products can be silvered (with chain). If you want this option - add a silvering listing, click here.
Try my Gift Personalized eco friendly box package for jewelry click here.
More Pendants click here.