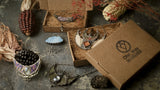 Green Crescent Moon
Crescent Moon Mint and Salt Forest Lakes.
Where the mists hug the body of mighty rivers. Where morning shines on the skin of fresh herbs. Where the scent of mint and pine needles rule his dance.
There you close your eyes, take a deep breath and dissolve in the depths of the forest mirror lakes.
Relax and swim ............
Mirror necklace measure 7 cm long (not including ring and hook) and a approx 6 cm at its widest point.
Materials: Stainless steel, Copper, Stain glass.
!!! Soldered Using Lead Free Solder !!!
Expect to receive your jewelry set beautifully presented and very well packed.
You can see all my  Crescent Moon necklaces, just click here.
---------------------------------------------------------
The chain comes 18" long but please feel free to message me (at order note) to change the length.
---------------------------------------------------------
All my products can be silvered (with chain). If you want this option - add a silvering listing, click here.
Try my Gift Personalized eco friendly box package for jewelry, click here.
More Pendants, click here.