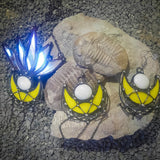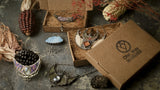 Lotus Mirror - Tribal Crescent Moon
!!! Soldered Using Lead Free Solder !!!
You can find all my lotus necklace - just write in search field OfelWayLotus
Blooms in the mint waters, breathes the moonlight, wings in the morning and floats in the air invisible, like a spider web.
Unearthly flower
Glass and metal. Friability and strength. Shine and severity.
This set combines incongruous. A delicate lotus flower on the pendant is in a rigid frame. This makes him even more glare in the sun. And light, almost transparent colors show his unearthly origin. The crescent, located below the composition, emphasizes this.
Large earrings, made in the form of crescents, complement the suspension. They have a soft yellow color, which glows when the rays hit.
It is made of stained glass, tin, steel thread, patience and love.
Can be made set with earrings with same glass. (see option when order it) and you can buy it in parts.
If you like another colour - write me and i try to find this glass and made it.
Materials: Copper, Steel, Stone.
You can see all my Lotus necklaces - just click here.
--------------------------------------------------------
The chain comes 18" long but please feel free to message me (at order note) to change the length.
---------------------------------------------------------
All my products can be silvered (with chain). If you want this option - add a silvering listing, click here.
Try my Gift Personalized eco friendly box package for jewelry, click here.
More Pendants, click here.