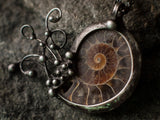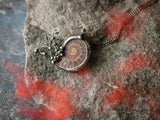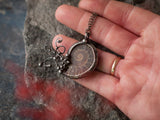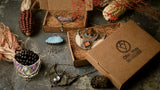 Natural ammonite fossil pendant
 Nautiluses came out of their shells and grew into a whole universe. Sleep. Feel your dreams, how they penetrate you through the Milky Way, with spirals of Saturn, Jupiter's moons, how the Moon writes letters to the Earth. Spirals of time twist the branches on the trees. And the world goes on and on. Feel and listen to your dreams. Ancient stones will tell you when you need to shut up and listen to the music of silence.
Ammonite.
The ancient ammonites were cephalopods. Shellfish wore round shells. They resembled horns, twisted endings inside. This analogy was the reason for naming animals with ammonites. Amon - the ancient Egyptian God.
The magical properties of ammonite are not only in the mineral composition of substances that make up fossil shells. The spiral shape of the stone determines its strength. Everything in the Universe develops in a spiral, and ammonite helps the eternal forces of nature to establish proper order.
In ordering the life of a person is the main magical property of ammonite. Every owner of ammonite jewelery remarks: with the advent of the stone twisted into a spiral, the events line up in a clear logical chain. An understanding of the patterns of building an event series also comes.
Materials: Shell, Copper.
Expect to receive your Pendant beautifully presented and very well packed.

Atention!!
The production time is 14-21 working days, and the delivery time is from 10 to 20 days. Please take this into account when planning for receipt of orders.
!!! Soldered Using Lead Free Solder !!!
---------------------------------------------------------
The chain comes 18" long but please feel free to message me (at order note) to change the length.
---------------------------------------------------------
All my products can be silvered (with chain). If you want this option - add a silvering listing, click here.
Try my Gift Personalized eco friendly box package for jewelry, click here.
More Pendants, click here.