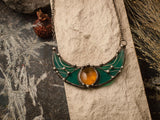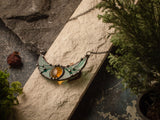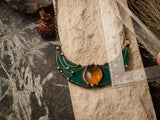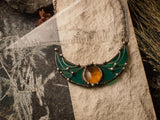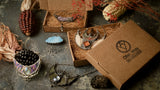 Forest's Orb pendant
 "Forest's Orb"
The malachite moon cradles with the oak leaves, cloverleaves, and more webs of fern. Coats with moss like cotton candy fills the mouth. Leprechauns, mermaids, and the undead — all are here. And the core is in the form of the crescent sun. It's for those who breathe the forest and the light piercing midst its trees.
Expect to receive your jewelry set beautifully presented and very well packed.
Materials: Pewter, Copper, Steel, Stain Glass.
!!! Soldered Using Lead Free Solder !!!
Atention!!
The production time is 14-21 working days, and the delivery time is from 10 to 20 days. Please take this into account when planning for receipt of orders.

You can see all my Crescent Moon necklaces, just click here.
---------------------------------------------------------
The chain comes 18" long but please feel free to message me (at order note) to change the length.
---------------------------------------------------------
All my products can be silvered (with chain). If you want this option - add a silvering listing, click here.
Try my Gift Personalized eco friendly box package for jewelry, click here.
More Pendants, click here.