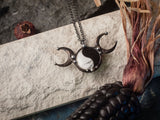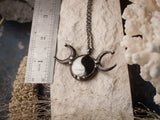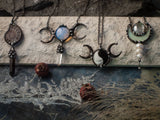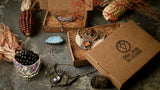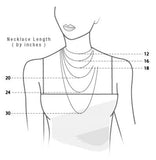 Universe inside you
 Pendant- Universe inside you, double crescent moon with yin yang symbol ( white cacholong and black obsidian )
"Universe inside you"

On a swing of silver bowstring, adorned with stones collected from the Sibyl Kumskay's cave, two twin sisters Eva and Lilith are rocking. Solitaires were laid out on the map of starry sky, where Hyperborea, Elysium, Atlantis and
Eldorado become locked up in transcendental and transcendence ...
Obsidian — the stone of the wizards, who can reveal Your soul, reaching the most secretive corners of your soul, to your I, to open you to yourself, your true desires and dreams. And cacholong is a stone of feminine energy, maternity and progeny, patronizing the Moon and the Venus.
In combination, a powerful and sacred amulet is created.
Expect to receive your Pendant beautifully presented and very well packed.
Materials: Glass, Stone, Steel, Copper, Obsidian.
!!! Soldered Using Lead Free Solder !!!
---------------------------------------------------------
The chain comes 18" long but please feel free to message me (at order note) to change the length.
---------------------------------------------------------
All my products can be silvered (with chain). If you want this option - add a silvering listing, click here.
Try my Gift Personalized eco friendly box package for jewelry, click here.
More pendants, click here.