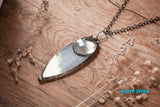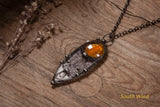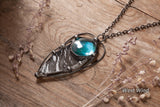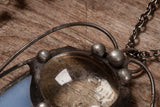 Pendant Wind
Set of Pendants - Wind

Here you can find anyone for a variety of tastes. From left to right after primary foto,
From the South the wind blows with sand and aromas of spices from the markets where boys with bare feet run on steps of ancient temples.
From the East, the wind blows, covering the skin with goosebumps and mother-of-pearl at dawn, where dew drops Shine with constellations on the petals of the blossoming Sakura.
From the West the wind blows, letting the hair of strong-shouldered maidens, stroking the green backs of the hills, driving away the mists and fear.
From the North the wind blows, piercing like a string, broken on a high chord and stuck in the throat under the sky, where the ball is ruled by the Northern lights.
Materials: Copper, Steel, Stain glass.

Expect to receive your jewelry set beautifully presented and very well packed.
---------------------------------------------------------
The chain comes 18" long but please feel free to message me (at order note) to change the length.
---------------------------------------------------------
All my products can be silvered (with chain). If you want this option - add a silvering listing, click here.
Try my Gift Personalized eco friendly box package for jewelry, click here.
More pendants, click here.