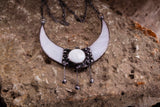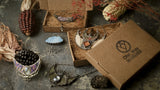 White Crescent Moon
This crescent moon necklace is made with pretty white stained glass. At the 2 last foto you can see little bit differents design. You can choose which model of the two you like more and choose the length of the chain. Let this one be yours to give, or enjoy.
○ This necklace is completely water resistant. If water gets on the jewelry, simply wipe it away with a dry cloth. Clean your necklace with soft wet fabric. Use microfiber tissue or a polishing cloth to maintain its original luster.
○ All my jewelry is made in Tiffany technique. I cut the glass and grind it to the perfect shape. Next, I wrap the pieces of glass in copper foil and solder them together. I use silver or copper based solders for all of the soldering. All my jewelry does not contain lead or nickel.
As with every piece in my collection, this item has been individually handcrafted. That's why yours may be a bit different than the one pictured.
○ I carefully package all my items in handcrafted branded boxes. Need to get it for a special occasion, want to add note, or gift wrap? Please feel free to shoot me a message. I'll be happy to help!
● Please note that while photos were taken in natural light, the color still may change from screen to screen.
Materials: Copper, Glass.
!!! Soldered Using Lead Free Solder !!!
Expect to receive your jewelry set beautifully presented and very well packed.
---------------------------------------------------------
The chain comes 18" long but please feel free to message me (at order note) to change the length.
---------------------------------------------------------
All my products can be silvered (with chain). If you want this option - add a silvering listing, click here.
Try my Gift Personalized eco friendly box package for jewelry, click here.
More pendants, click here.