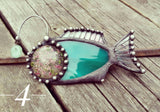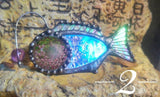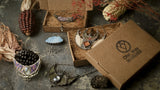 Brooch Anglerfish
Brooch Anglerfish!!
I cooked such a mint fish.
I fried it with a soldering iron, wrapped it with foil-tin, chopped herbs-dried flowers.
And "a cherry on the cake" was a natural stones.
Can be making with other herbs-dried flowers and in other colors)
The brooch will be good packed!
Materials: Glass, Stone, Steel, Copper, Stainless steel.
!!! Soldered Using Lead Free Solder !!!
All my products can be silvered (with chain). If you want this option - add a silvering listing, click here.
Try my Gift Personalized eco friendly box package for jewelry, click here.