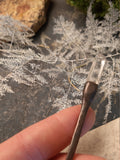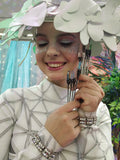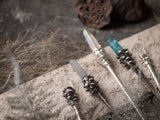 Chinese metal hair stick with clear Quartz
Hair stick may be came from the world of the Fantastic Beasts and can be used for spells) Or for self-defense in our more real space.
But what exactly these wizards can do is decorate your hair.
Materials: brass, patina, love, Quartz, eco tin.
!!! Soldered Using Lead Free Solder !!!
All my products can be silvered (with chain). If you want this option - add a silvering listing, click here.
Try my Gift Personalized eco friendly box package for jewelry, click here.