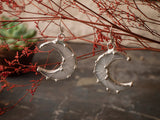 Moon Charm Earrings
Lets see the full Blue Space Crescent Moons Set by this link, click here.
Material: Copper, Glass, Steel, Silvering. 
!!! Soldered Using Lead Free Solder !!!
All my products can be silvered (with chain). If you want this option - add a silvering listing, click here.
Try my Gift Personalized eco friendly box package for jewelry click here.