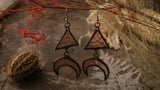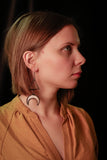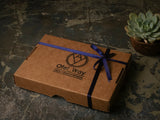 Crescent Moon Earrings
Crescent Moon Earrings from stain glass pearl color with Stainless Steel Earring Hooks - Hypoallergenic!

When a new top floor and geometry is added to the image of the crescent.
The triangles on top symbolize the indivisibility of the holographic nature of the universe and of each unit manifested in it.
The moon of the horns is a downward symbol of the classic moonflower, the most ancient female amulet.
It turns out strong solid and great accessory for the ears)

Materials: Stainless steel, Copper.
!!! Soldered Using Lead Free Solder !!!
More Moon Earrings type and color click here.

All my products can be silvered (with chain). If you want this option - add a silvering listing, click here.
Try my Gift Personalized eco friendly box package for jewelry click here.
More earrings click here.