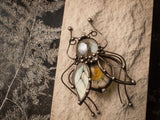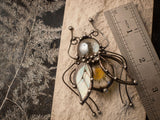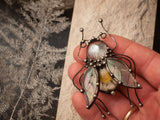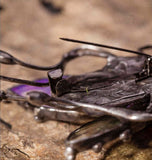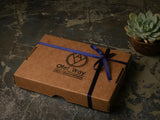 Brooch beetle scarab
 "of simplicity"
"Who are we? Why are we here? A wild bee cares not. For its world below is merely a flower road" (c)
About how the earth smells of flax seeds, while the air of fresh-cut lawn and homemade bread.
About how at the August's end the sky dresses in chestnut oil. And as crickets, bugs, cicadas chat at night ... They do not care for a thing.
After all, there is nothing more important than just being.
Wing with glass of iridescence which overflow as of a dragonfly
The brooch will be good packed!
Materials: Pewter, Copper, Stain glass.
!!! Soldered Using Lead Free Solder !!!
All my products can be silvered (with chain). If you want this option - add a silvering listing, click here.
Try my Gift Personalized eco friendly box package for jewelry, click here.