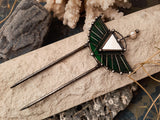 Stain Glass Green Hair Fork
New comb in dark green glass, mirrors and pearls.
Who loves modern and art nouveau that I am)
The Brass Hair Pins are the perfect accessory for your top knot or bun. Created with the right curve and shape to hold your hair back with ease. U Brass soldering and aged artificially.
I made 2 size and different color Hair Fork
3 inch using part of Hair Pin :
This is our smallest and most simple pin. It's perfect for someone who wants a light pin to secure their fine to medium thick hair. Also great for rocking a half-up bun.
4 inch using part of Hair Pin:
The best entry level pin for medium to thick hair. This size offers more length and structure to help secure the bun.
Materials: brass, stain glass, patina, love.
!!! Soldered Using Lead Free Solder !!!
All my products can be silvered (with chain). If you want this option - add a silvering listing, click here.
Try my Gift Personalized eco friendly box package for jewelry, click here.