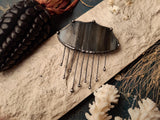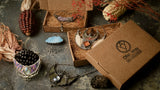 Stained Glass Cloud Shaped Brooch
 Brooch Rainy Cloud.
Originally from St. Petersburg.
With rain strings.
Made of gray stained glass, ecotin and copper foil.
All parts are made by hand.
See, instead of drops in her strings)
The cloud that plays the rain on the guitar, the true atmosphere of St. Petersburg in a neat decoration.
If you want buy yourself or present intresting gift for somebody, then this brooch is what you need! Satisfaction Guaranteed!
Can be made in different sizes and colors.

The brooch will be good packed!

Materials: Copper, Steel, Glass.
!!! Soldered Using Lead Free Solder !!!
All my products can be silvered (with chain). If you want this option - add a silvering listing, click here.
Try my Gift Personalized eco friendly box package for jewelry, click here.